News
See Bee Solar Tech's news page for the latest news.
2023
September 2023 – Heliomotion was featured on an episode of the Everything Electric Show as an alternative to roof based solar.
2022
November 2022 – Heliomotion wins the Best Sustainable Product or Technology award from Build It magazine! We are very grateful to win this award.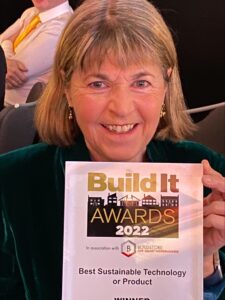 October 2022British made Heliomotion systems are now being shipped all around the UK, to Europe and to the USA.
June 2022 – Production of Heliomotion is being moved to England in collaboration with Bee Solar Tech. This new production is estimated to start in September/October. Development of Heliomotion will remain in Finland.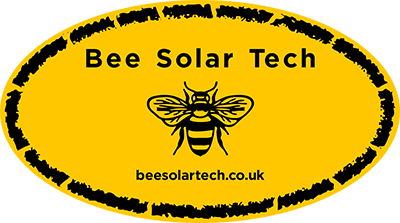 February 2022 – We can now offer a turnkey Heliomotion solution with ground anchors in the U.K. and Europe. Please get in touch with us via our contact form if you would like a quote.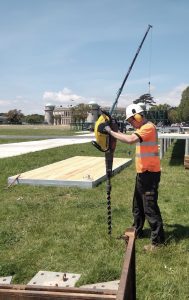 2021
September 2021 – Heliomotion production is being moved from Finland to Sweden and UK to better be able to service European customers.
August 2021 – A Heliomotion user in Greece used his system to provide off-grid solar power to fire crew members while they were working to put out wildfires in Sparta.
"Many of the fire crews here in Sparta, Greece would like to thank you. As you may know nearly 20 square kilometres has burned here and there was a total power failure for several days. All except for us. We were the only place with a solar powered Heliomotion system which meant we had a working fridge, lights and a place for people to charge their cell phones. We are very grateful."
April 2021 – As the winner of the P.E.A. 2020 sustainability award Melissa Briggs was featured in The Guardian on April 9th (page 20) for introducing Heliomotion into the market.


2020
December 2020 – Oxford PV hits new world record for solar cell with 29.52% efficiency. Once available in 2022, a Heliomotion PV-6 with these panels will have a rated output of more than 2300 watt.
November 2020 – Heliomotion wins UK's biggest sustainability award for 2020, the P.E.A. (People Environment Achievement) award in the Energy category. See the award ceremony here.
October 2020 – First systems shipped to USA.
September 2020 – First systems shipped to Scotland and Belgium.
July 2020 – First solar park installation complete and fully functioning.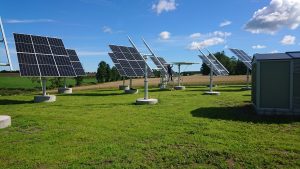 June 2020 – Successful self install completed in the UK – clients delighted by how easy the process was. They had an electrician to commission but completed the rest of the work themselves.
March 2020 – Garry Whittaker visits a Heliomotion in Thrupp UK where he does a video interview with our business developer Melissa Briggs. Full video is available at his YouTube channel iPaceOwner.
February 2020 – News Flash – A micro grid of 15 Heliomotion PV-6 systems to be built in Heden, Sweden.
2019
November – Heliomotion was featured in Grand Designs Magazine.
October 2019 – Heliomotion was in the Innovation Zone at the Solar & Storage Live event at the NEC, Birmingham, 17th – 19th September.
July 2019 – Now out – the latest edition of Build It magazine (dated September) includes "A Beginners Guide to Solar  PV"- and features Heliomotion and solar tracking as an alternative to static roof systems.
Congratulations and welcome to our installer network – Eco-Assist of Calne in Wiltshire. www.eco-assist.com. Contact Paul or Rob on 01249 812282. We now have 11 installers all round the UK. A couple more to be announced shortly.
There is a huge amount going on in the renewable energy sector. The EV market is expanding rapidly with multiple new models – which means related opportunities for Heliomotion when people want to avoid using fossil fuels to charge their cars via the grid. Heliomotion went to the EV Festival on the 28th July at the British Motor Museum and tried out several of the new cars there!
Also coming soon – news about the appointment of some extra installers (we are still looking for new installers to increase our network) and details about our new product – the PV-6+ – using the larger 72 cell solar panels (rather than 60) to give our customers a further boost to output.
February 2019 – we have been nominated for a Green Heart Hero award for Outdoor Innovation for our efforts targeted towards climate change. The Awards ceremony/presentation takes place on 11th March and we will be there – just in case!
January 2019 – we welcome Stratford Energy Solutions of Stratford upon Avon and Green Park Power of Abergavenny to our installer network.  Contact details will be published shortly.
2018
November 2018 – Heliomotion wins the Best New Home Product award from Build It magazine!
New online comprehensive coverage on solarguide.co.uk. https://www.solarguide.co.uk/solar-panel-costs-benefits-and-savings#/
We are featured in the December issue of Homebuilding & Renovating out now.
New installers in the north east of England.  We welcome Labar Services, Lincolnshire and Smart Electrical Derbyshire to our network.
Smart Homes Electrical, Denby House Business Centre, Taylor Lane, Loscoe, Derbyshire, DE75 7AB,  0115 822 2446
Contact Tom Mastin – https://www.smarthomeselectrical.com/index.html
Labar Services Ltd, Willow Lakes, Barton Street, Ashby Cum Fenby, DN37 0RU, 01724 376677
Contact: Dawn Stiff – http://www.labarservices.co.uk/
September 2018 – We are delighted to announce the appointment of the following installers around the North, South and West of the UK.  More are in the pipeline.
Yorkshire Energy Systems, Windsor House, Cornwall Rd, Harrogate HG1 2PW, 01423 529144
Contact: Chris Wilde – http://www.yorkshireenergysystems.co.uk/
Green Shop Solar, Holbrook Garage, Cheltenham Road, Bisley, Stroud GL6 7BX, 01452 772030
Contact: Ollie Budgeon – https://www.greenshopsolar.co.uk/
Energy Creation,  90, Palmer Road, Angmering, West Sussex, BN16 4LW, 01903 790112
Contact: Ashley Martin – https://energycreation.co.uk/
Sussex Solar, 3 Cricketfield Rd, Horsham West Sussex RH12 1TE, 01403 257536
Contact: Andrew Baxter – http://sussexsolar.com/